I am an instructional coach in the Sioux Falls School District. I started my teaching career in 2008 with Teach for America. After graduating from Washington University in St. Louis, I moved to San Francisco to begin my commitment with Teach for America. After summer training in Los Angeles I greeted my first class of fourth graders through the doors of Vallejo Charter School (VCS). VCS is a project-based Expeditionary Learning School. They emphasized teaching reading and writing in the context of science and social studies and motivating students through authentic projects. After four years, my husband and I decided it was time to move back home to Sioux Falls. I then taught 5th grade at the Challenge Center for two years, a school for identified "gifted" learners. I learned a lot about motivating students and continued to use my background in project-based learning to authentically drive students to achieve. Now I embark on a new journey as Instructional Coach for Harvey Dunn and Renberg Elementary Schools. I'm excited to be a part of these communities and learn from the wonderful teachers and staff members in them.

Below are photos of my family. I live with my husband, Tom, and our standard poodle puppy, Farrah.
Powered by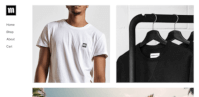 Create your own unique website with customizable templates.